THE LEE'S
Lee Construction is owned and operated by husband and wife team, Ray and Sherine Lee, natives of Northern California. With an impressive background of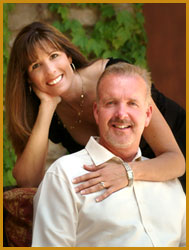 both experience and talent, the Lees have enjoyed an unparalleled reputation for building exceptional custom estates since 1998. The Lees approach every new home as a husband and wife team, with Ray focusing on project specifications and craftsmanship and Sherine using her interior design background to incorporate the finer details into your lovingly hand-crafted home.
Having built and remodeled several luxury homes of their own, the Lees understand the intricacies of home construction from the standpoint of both the homeowner and the contractor. They have extensive expertise working within home owner association CC&Rs and architectural review standard guidelines to ensure projects run smoothly. The Lees also are familiar with changing trends in the regional housing and real estate market that can factor into a client's site and home design decisions to ensure their personal investment stays strong well into the future.
Through each project, you get Ray and Sherine's personal assurance that every element of your new dream home will be created with only the highest standards in design, material and craftsmanship. With Lee Construction, excellence comes standard.